Take a look at this picture from XKCD.com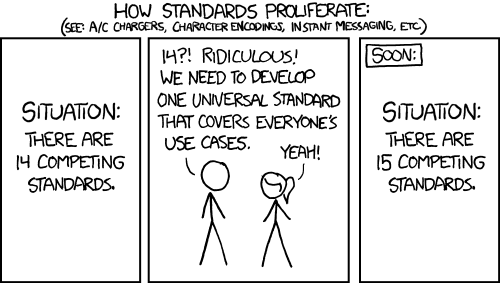 Browsers are a good example of this. While I develop websites for them, I have to search through the unique 'standards' for each to make sure my sites are fully compatible.
When developing a new program (to compete with existing products), I can see people thinking that their idea is worth putting there in a final product that other products will see the advantages and include it as well. Obviously this isn't always the case (browsers, are once again a good example). Some features are ignored by Webkit browsers and some by Gecko browsers and yet IE tends to just ignore everything quite frankly. In truth, these new 'ideas' or implantation tend to just cause problems for the end-user.
Now, sometimes these ideas are important to include. Without ideas, there would be no change and without change, no advancement or positive improvements.
At what point is an idea/feature worth implementing. What decides if a feature is worthy of becoming 'standard'?